Bitcoin Price Prediction as Bears Push BTC Below $27,000 Support – Dip Buying Opportunity?
As Bitcoin's volatile movement continues, recent market activities have seen the pioneering cryptocurrency tumble below the crucial $27,000 support level. 
This downward momentum has left traders and investors with an imperative question: Is this just a transient dip or a prolonged bearish phase? 
Could this recent downturn potentially offer a golden opportunity for those looking to buy the dip? 
Bitcoin Price 
Delving into the current statistics, Bitcoin is presently priced at $26,690, marking a 1.5% decline in the past 24 hours. Despite this setback, Bitcoin retains its eminent position at #1 on CoinMarketCap, boasting a substantial live market capitalization of $520 billion. 
With its circulating supply edging close to 19.5 million BTC coins, it's crucial to examine the broader market context and indicators to determine the future trajectory of this crypto titan.
Fed's Interest Rate Decision May Influence BTC Price
Bitcoin's value has continued to remain above $26,900. This is primarily due to Federal Reserve Chair Jerome Powell's recent announcement of potential interest rate hikes in case the economy remains strong. 
The central bank has also confirmed that its current interest rate range is consistent with market forecasts.
The US Federal Reserve (Fed) recently decided to maintain the interest rates at 5.25-5.5%, which came as a relief to the global markets. 
However, they hinted at the possibility of a rate hike by the end of 2023. This news impacted the crypto market, with Bitcoin and Ethereum remaining relatively stable for the past 24 hours. 
It's worth noting that Fed Chair Jerome Powell's mention of a potential rate hike later this year had a noticeable impact on the market dynamics.
Bitcoin's market sentiment has turned neutral in September, indicating cautiousness among investors.
Arthur Hayes Speculates on Chinese Capital Flight and Bitcoin
According to former BitMex CEO Arthur Hayes, X (formerly Twitter) may be experiencing an outflow of capital from China. 
This is due to the Chinese yuan (CNY) dropping by 15% against the US dollar (USD) this year. This has raised concerns about China seeking alternative investments, such as Bitcoin, to hedge against economic uncertainty.
Hayes consulted with China expert Andrew Collier, who analyzed China's export earnings and the gap in foreign reserves. 
It was discovered that approximately $520.85 billion is unaccounted for, suggesting that this money may be invested in various assets, including cryptocurrencies like Bitcoin. 
Hayes also noted the correlation between CNY and the Japanese yen (JPY), which could further impact capital leaving China.
This news could potentially have a positive impact on the price of Bitcoin (BTC). If a significant amount of capital flows into cryptocurrencies like Bitcoin from China as a hedge, it could increase demand and its value. 
However, market reactions may vary depending on the actual movement of funds.
Bitcoin Price Prediction 
Analyzing the technical landscape, Bitcoin is currently trading with pronounced volatility, having already breached the critical support at the $26,600 mark. 
This level previously acted as a resistance; however, subsequent candle closures, particularly on the 4-hour chart, above this threshold fortified it as a robust support for BTC.
Yet, amid a robust US dollar, Bitcoin commenced a descent. Presently, a bearish engulfing candle has materialized, prompting a bearish breakout for BTC. 
This rupture of the $26,650 mark has left Bitcoin vulnerable to the immediate support level of $26,300. A further decline could test the subsequent support situated around $26,000.
On the 4-hour timeframe, Bitcoin's trajectory has dipped below the 50-day exponential moving average. Additionally, it has broken through an upward channel, which previously constrained its downward mobility.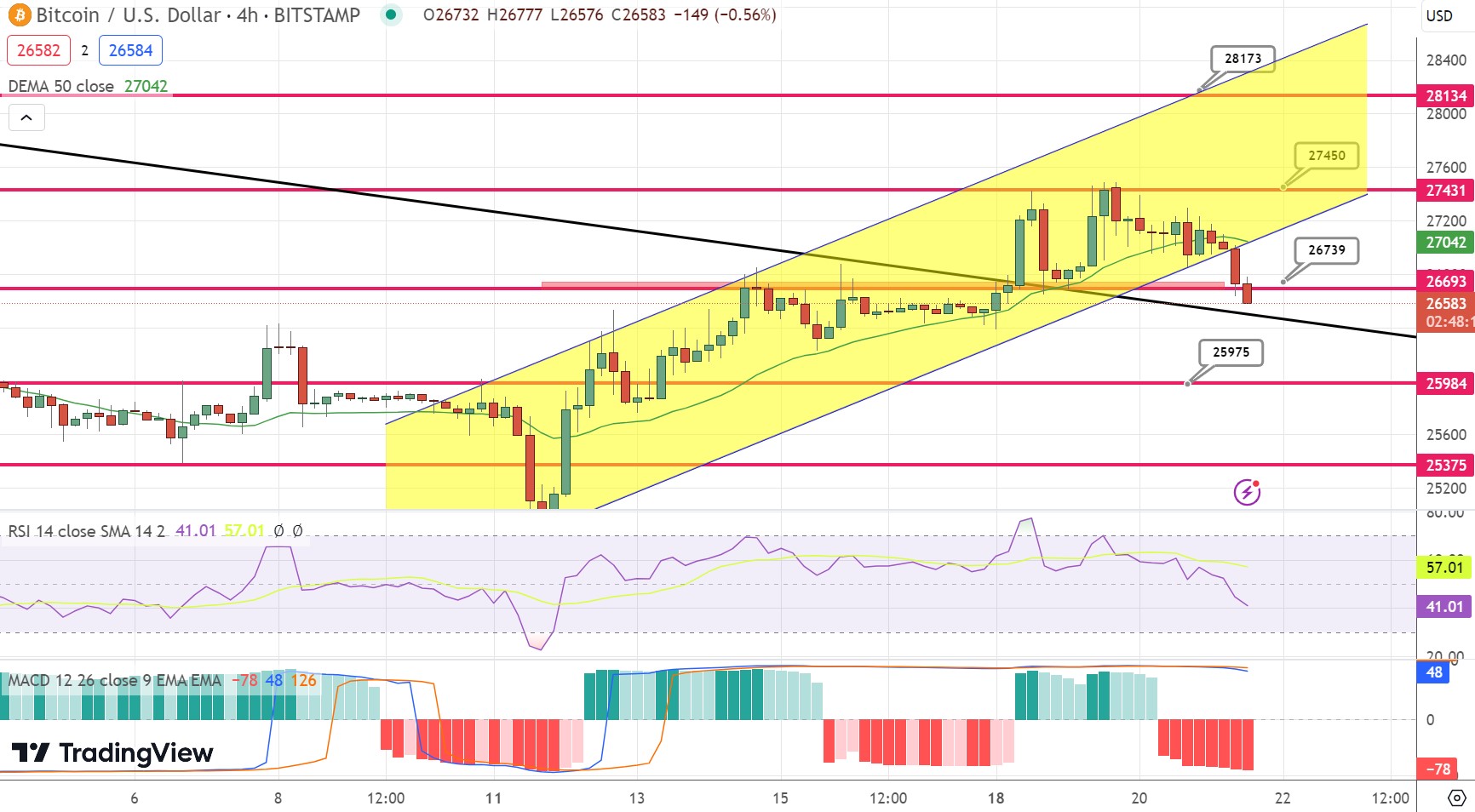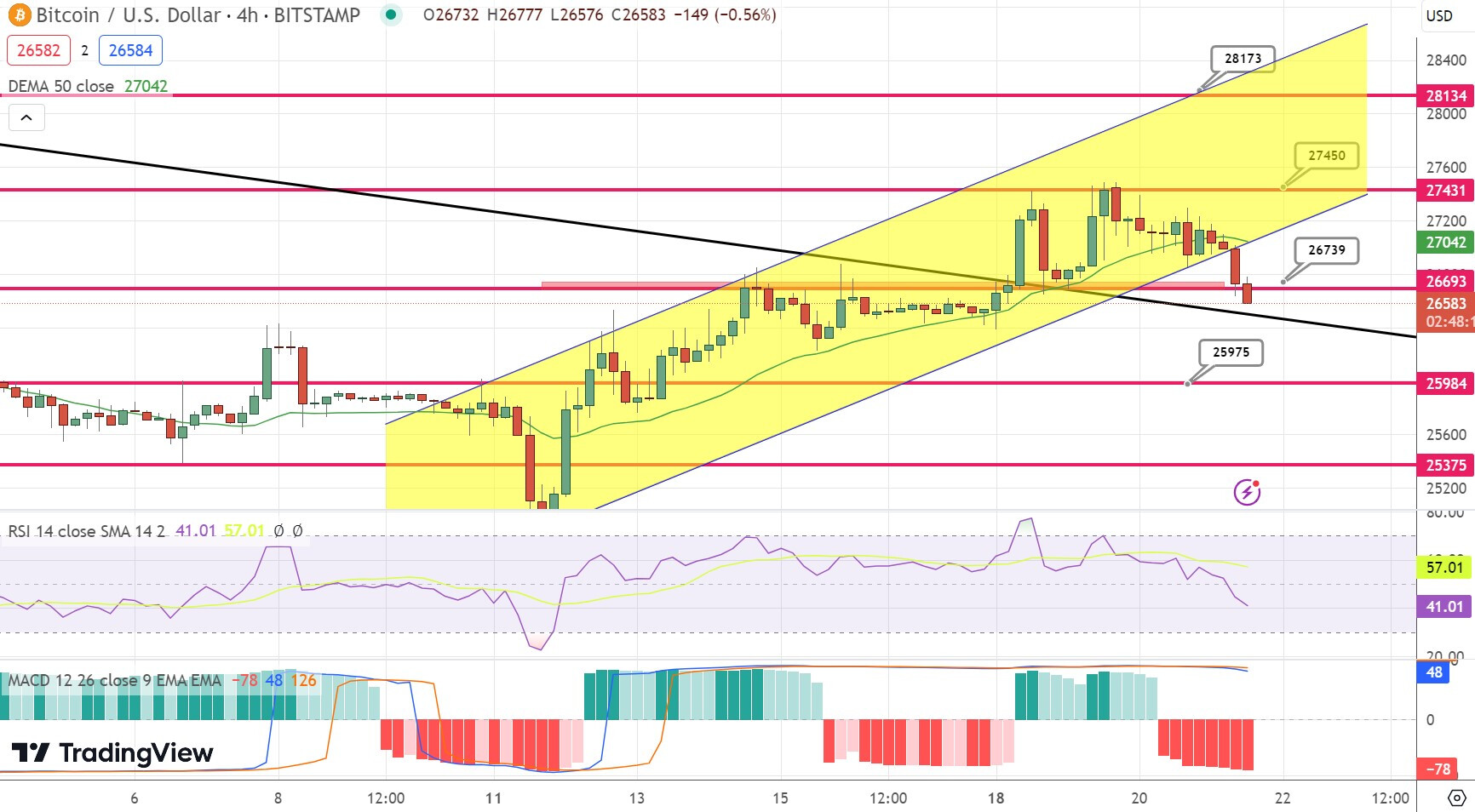 Post this breach, BTC's next defensive line is anticipated around the $26,000 mark. Should the bearish momentum persist, BTC prices might be pushed towards the $25,511 region. 
Conversely, a bullish resurgence surpassing the $27,000 threshold could propel Bitcoin towards the $27,500 level. 
For now, the $27,000 mark, underscored by the 50-day exponential moving average, is a pivotal point for BTC. A closure below this can precipitate a continued bearish trend for Bitcoin.
Top 15 Cryptocurrencies to Watch in 2023
Get ahead of the game in the world of digital assets by checking out our carefully curated selection of the top 15 alternative cryptocurrencies and ICO projects to watch for in 2023. 
Our list is compiled by industry experts from Industry Talk and Cryptonews, so you can expect professional recommendations and valuable insights for your cryptocurrency investments. 
Stay updated and discover the potential of these digital assets.
Find The Best Price to Buy/Sell Cryptocurrency


Disclaimer: Cryptocurrency projects endorsed in this article are not the financial advice of the publishing author or publication – cryptocurrencies are highly volatile investments with considerable risk, always do your own research.